4.8 STARS ON MAKRO AND TAKEALOT
Skinny was carefully crafted to offer its pioneering fans the best of both worlds without having to compromise on ABV or taste. A modern drink that is clean, crisp and refreshingly malty, a game changer at a braai, after work or a workout! A full flavour premium lager at only 89 calories and 0,9% carbs? Why wouldn't you?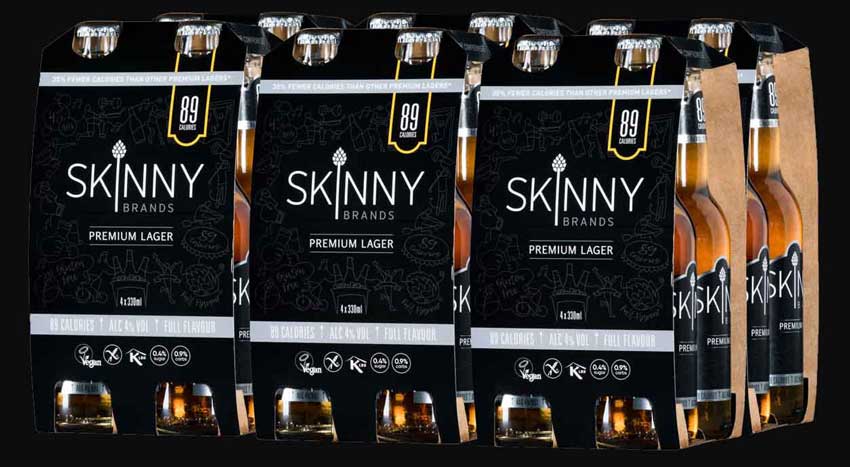 SkinnyBrands Premium Lager is called 'Skinny' because it has 35% calories and up to 72% carbs less than other premium lagers. That's just 89 calories per 330ml bottle. Know what you are drinking by comparing us to your regular here.

#89CALORIES



Skinny has on average 72% fewer carbs than other premium lagers. This is because the residual carbs are removed during the brewing process so that there are only 0.9g per 100ml. hat's only 0.9% giving 3g of carbs per 330ml bottle or can.

#0.9%CARBS



Alcohol contains calories and therefore one of the easiest ways to reduce the calories in beer is to reduce the alcohol content. Instead, the calorie reduction in Skinny Lager comes from the reduction in carbs, allowing the beer to remain full 4% ABV.

#NOTLOWANDNO



Skinny is gluten removed to <10ppm (lower than 20ppm). We do this by exposing the beer to filtering enzymes during fermentation which remove the gluten at the end of the brewing process. By being gluten removed, we can still use traditional brewing methods using malted barley which is important because by doing so we ensure that we are a full flavour premium lager.

#LICENCECUKG134

In order to filter the beer and keep it clear most beers and lagers utilise animal by-products in their finings such as isinglass or gelatine. Instead, we use other Vegan Friendly filtration methods to maintain the clarity of our liquid. SO SkinnyBrands Premium Lager is 'Certified Vegan Friendly' by the Vegan Society. Our Vegan Society certificate licence number is 023719.
#KINDTOANIMALS

Bitterness measured by the international bitterness scale is an indicator of beer flavour. Therefore, the higher the bitterness the fuller the flavour and Skinny Lager which is brewed using conventional methods and plenty of hops weighs in at 13 IBU. Not only is this higher than light lagers but it is also higher than many premium lagers. This means that Skinny truly is a full flavour premium lager.
#NOTALIGHTLAGER
PREMIUM FULL FLAVOUR
4% ABV | 0.9% Carbs | 0.4% Sugar | Gluten Free | Vegan